After a long day visiting Bahrain's landmarks, exploring its many art galleries and museums, and just generally absorbing as much culture as you can, you need to unwind.

And there's no better way to do that than on a great night out in Bahrain. There are plenty of amazing clubs and bars, and luckily for you, you won't have to search to find them - we've rounded up our favourites here.

Read on for our pick of Bahrain's best nightlife, and prepare to head out on a top night out in the Kingdom.
Blue Moon Lounge
When a bar has floor-to-ceiling windows, views from the 50th floor, and is inside one of Bahrain's best hotels, there isn't really much more we need to tell you to convince you to go there. But aside from the incredible panorama of the Bahrain skyline, Blue Moon Lounge also has fantastic bar food (from re/Asian Cuisine next door), and an extensive mixed drink menu.
Sun, Tue 6pm-midnight; Wed-Thu 6pm-2am; Fri 4.30pm-2am; Sat noon-midnight. Four Seasons Bahrain Bay (1711 5046).
Bushido
If you love all things Japanese, there's a good chance you're going to love Bushido. This gorgeous bar is filled with Samurai coats of armour on the walls, and the architecture itself makes you feel as though you've stepped into ancient Japan. Thankfully, the fun doesn't stop there, as this spot also offers up incredible Asian food, including sushi, bao buns and noodles. The drinks menu is extensive too, and if you head here at the weekend the live music and DJs will entertain you all night long. Head here for dinner, but stay for the late night entertainment.
Daily midnight-2am. Jumeirah Royal Saray, Seef (1758 3555).
Calexico
Although this Mexican restaurant looks unassuming from the outside, this spot is unbelievably popular - and with good reason. Head here on a Monday, and you'll be treated to a curated drinks menu that changes week-by-week and a DJ that will get you on your feet in no time. We promise it will be worth heading out on a school night.
Daily noon-midnight. Adliya (1766 6644).
Camelot
When you could choose between going for a drink in a medieval-style castle and not, you should always choose the castle. Interesting exterior aside, Camelot serves up fantastic French food and has themed nights throughout the week, including a grape night on Tuesdays. It's a great place to start your night out as it's in the heart of Adliya, meaning you can easily head into another bar if you fancy.
Sat-Wed 5pm-2am; Thu-Fri noon-2am. Adliya (3997 7540).
Club 360
Looking for a proper clubbing night out in Bahrain? Look no further than Club 360. You're bound to have a good time at this ever-popular night spot, which is always filled with people. The resident DJs know how to get the crowd going, and as a bonus, ladies and American navy personnel get free entry.
Daily 9pm-2pm. Elite Crystal Hotel, Juffair (3336 0300).
Club Wrangler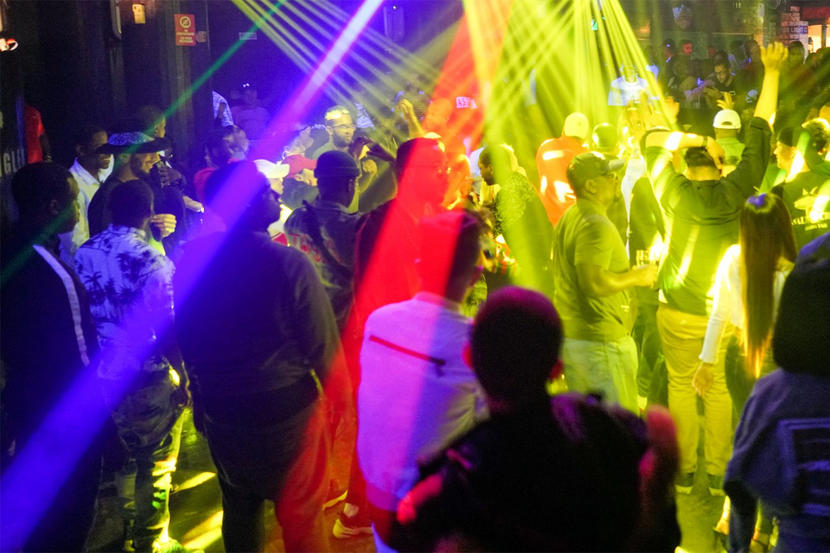 Club Wrangler, which has been around since 1999, is undoubtedly an institution on the Bahrain nightlife scene. Whether you're a tourist who has just one night in the Kingdom or a resident, you're bound to have a great night if you head here. Handily, it's located in Juffair, near plenty of other nightlife spots you can enjoy before ending the night at Wranglers.
Daily noon-2am. Juffair Grand Hotel, Juffair (3638 2872).
Gallery 21
Here at Time Out, we can never resist a rooftop bar - and the one at Gallery 21 is pretty spectacular. You could spend your entire day at Gallery 21, checking out the art, then grabbing a bite to eat in the cafe, before heading to one of the bars inside where you'll want to spend the whole night. It's a really unique spot, and a super cool hangout spot.
Daily 9am-2am. Adliya (1771 1600).
Hazel Rooftop Lounge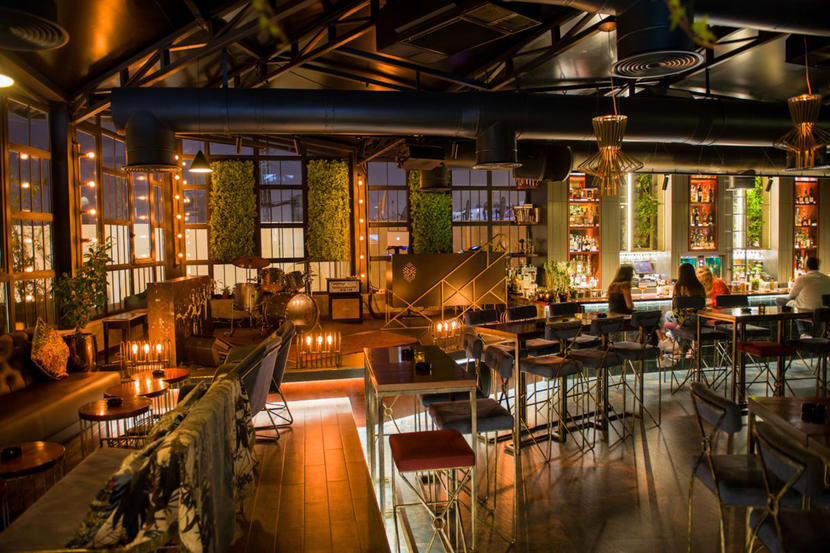 Although this bar hasn't been around for very long, it's already established itself as one of the top places to go in the Kingdom for a drink with your friends. The bar regularly hosts live musicians, and even when there isn't an artist playing, the music is fantastic. We're big fans of Viola, the Caribbean restaurant downstairs, too, and would recommend trying both in one evening.
Mon-Sat 5pm-late. Adliya (1723 1231).
Iris
With Iris lounges dotted all over the Middle East, including in Beirut, Dubai and Abu Dhabi, there's a good chance you already recognise the brand, which prides itself on being the place to be for after-work drinks. You can expect exactly the same from Iris' Bahrain branch - it attracts the cool crowd, who come for the mixed drinks and bar bites, and stay for the vibe.
Mon-Sat 8pm-2am. Adliya (1721 2223).
JJ's Irish Restaurant
We've already named this bar as one of the best for live music in Bahrain, but we have to say it's one of our top nights out too. JJ's Irish Restaurant is renowned for its karaoke nights, and you'll have to head there on a Monday to experience them. Kicking off at 9pm, you'll need to sign up early for a spot as there's always a crowd. This spot is heaving even when it isn't karaoke night, so if you're after an authentic Irish bar, this is your best bet.
Daily noon-2.30am. Gudaibiya (3384 3005).
Meisei
Meisei is another of Bahrain's best rooftop bars, but that's not the only reason to head here. The Japanese food here is incredible, and there's even a chef's table area so you can watch the food being prepared. Plus, if you head here on Wednesdays or Saturdays during the winter months, Meisei hosts a salsa dancing night up on the roof from 8pm onwards - and it's completely free to take part. Get your dancing shoes on!
Sun-Thu noon-3pm, 7pm-2am; Fri-Sat noon-2am. Adliya (1700 7770).
Play Restaurant
Meditarrean and Asian are two of our favourite cuisine types, and at Play Restaurant you won't have to choose between them. But if you're looking for more than just food, Play is also one of the most popular nightlife spots in Bahrain thanks to its live DJs and drinks menu.
Sat-Thu 7pm-1am; Wed-Fri 7pm-2am. Jumeirah Royal Saray, Seef (1710 0345).
The Terrace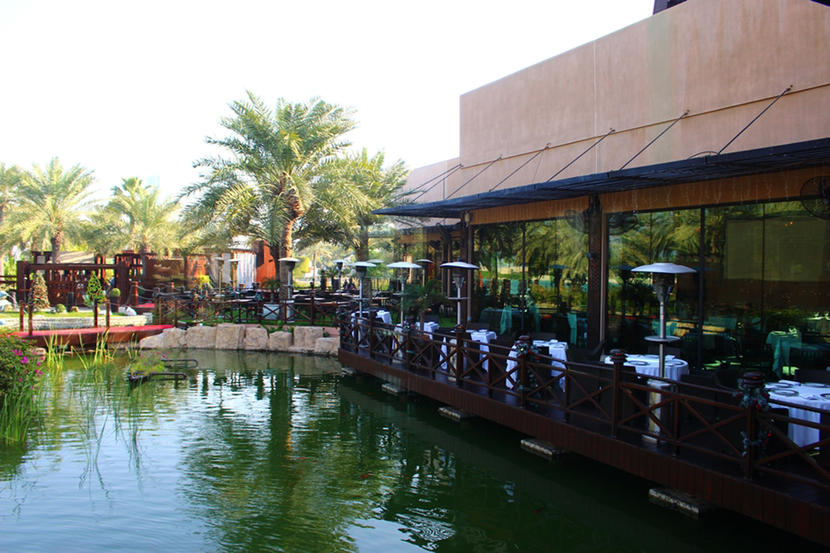 If you get bored of Play Restaurant, or just want to try something different, you can always head to Jumeirah Royal Saray's other bar - The Terrace. The rooftop bar, which is another relatively new addition to Bahrain's nightlife scene, is perfect for the 'gram and has an excellent selection of mixed drinks. It's understandably only open during the winter, so make sure you take advantage of it while you can.
Daily 5pm-2am. Jumeirah Royal Saray, Seef (1710 0346).
Torino
Torino is much more than just a steakhouse, and while the meat is good, plenty head here just for the mixed drinks on offer. The Latin nights on Tuesdays are particularly popular, with the dance floor filled to the brim with revellers.
Daily 6pm-2am. Adliya (6666 8803).
Trader Vic's
The Trader Vic's name is synonymous with a good time, and it's no different in Bahrain. Set over the lake at The Ritz-Carlton, this bar is gorgeous from top to bottom, and has been a firm favourite among expats for more than 20 years. Make sure you try the mixed drinks.
Daily noon-2am. The Ritz-Carlton Bahrain, Seef (1758 6555).
Be the first to get all the latest Bahrain news, reviews and deals into your inbox by signing up to our free
newsletter
,
click here to sign up
.