Christmas Day traditions are different for everyone.
While one group might head out to the pub for a Christmas brunch every year, other families might not even want to leave the house.
If you want all the intimacy of a small gathering at your home, without any of the fuss of cooking for everyone (especially if they're a mix of meat-eaters, vegetarians and vegans), why not get your Christmas dinner delivered this year?
Plenty of hotels and restaurants are offering up turkey takeaways with all the trimmings, meaning you won't have to worry about burning anything.
Read on for our round up of all the takeaway turkeys in Bahrain this year.
Downtown Rotana
This year the Downtown Rotana is offering up two sizes of turkey, between four and five kg or between six and seven kg, with all the festive trimmings. With every roast ordered you'll get 500g of Brussels sprouts, a kilogram of goose fat roasted potatoes, 500g of glazed carrots, 500g of roasted pumpkins and 250g of chestnut stuffing, cranberry jelly and roast jus-lie.
BHD25 (four to five kg turkey), BHD30 (six to seven kg turkey). Downtown Rotana, Manama (1311 9999).
Four Seasons Bahrain Bay
Turkey with all the trimmings to serve eight from the Four Seasons Bahrain Bay will set you back BHD85 this Christmas, and if you're after a bigger (or smaller) turkey, it's 25kg per kilo. You can have the festive bird delivered to your door or pick up from the hotel, and pre orders have already started.
BHD85 (serves eight). Four Seasons Bahrain Bay (1711 5500).
InterContinental Regency
The InterContinental Regency is offering up three different options this Christmas. You can get roast turkey with chestnut stuffing and turkey jus, plus roast potatoes, glazed Brussels sprouts and baby carrots; slow-roasted barbecue short ribs with grilled pineapple and baked root vegetables; or baked salmon in puff pastry with butter-glazed carrots and fresh tarragon sauce. Each of the options serves between six and eight people and must be ordered 48 hours in advance.
BHD55 (baked salmon), BHD60 (roast turkey), BHD125 (barbecue short ribs). InterContinental Regency, Manama (1722 7777).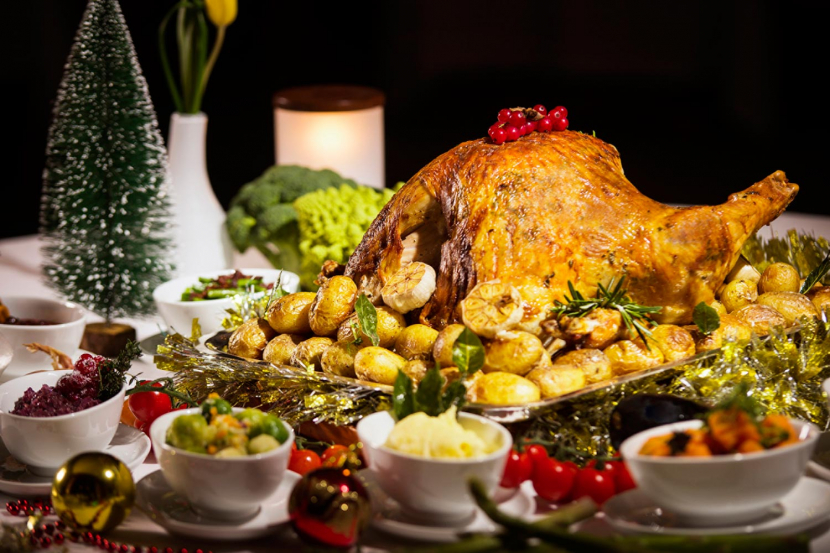 Jumeirah Royal Saray
This year, Jumeirah Royal Saray is offering up two different glazed turkey options: mustard honey or apple and honey. Alongside the turkey, you'll also get all the trimmings including roasted Brussels sprouts, cranberry sauce, gravy and stuffing. You can also order from the set menu and get everything from lobster bisque to butternut squash salad. You must order at least 24 hours in advance.
From BHD80 (six to eight kg roast turkey). Until Jan 15, 2020. Jumeirah Royal Saray, Seef (6672 0026).
The Ritz Gourmet Lounge
If you want more than just a turkey this Christmas, order from The Ritz Gourmet Lounge where you can get roast beef too. Orders must be placed at least 72 hours in advance.
From BHD119 (six people). Nov 24-Dec 31. The Ritz-Carlton Bahrain, Seef (1758 0000).
The Westin and Le Meridien City Centre Bahrain
Between November 28 and December 25, you can get a turkey and all the trimmings to serve up to 10 people for BHD70 from The Westin and Le Meridien City Centre Bahrain. The hotel will even deliver the turkey for free between noon and 10pm. You'll need to order 48 hours in advance.
BHD70 (serves up to 10). The Westin and Le Meridien City Centre Bahrain, Manama (1717 1441).
Be the first to get all the latest Bahrain news, reviews and deals into your inbox by signing up to our free
newsletter
,
click here to sign up
.