Keeping kids entertained on holiday isn't easy. You'd think they'd enjoy exploring a different culture as much as you do, but often you'll catch them sulking because they can't play on their Xbox.
In Bahrain, there are plenty of family-friendly activities for you to try, from water parks you can splash out in to beaches you can laze about on with a book.
Luckily for you, we've rounded up a few things to do with your family in Bahrain.

Read on for our picks of the top family activities in the Kingdom.
Go to a water park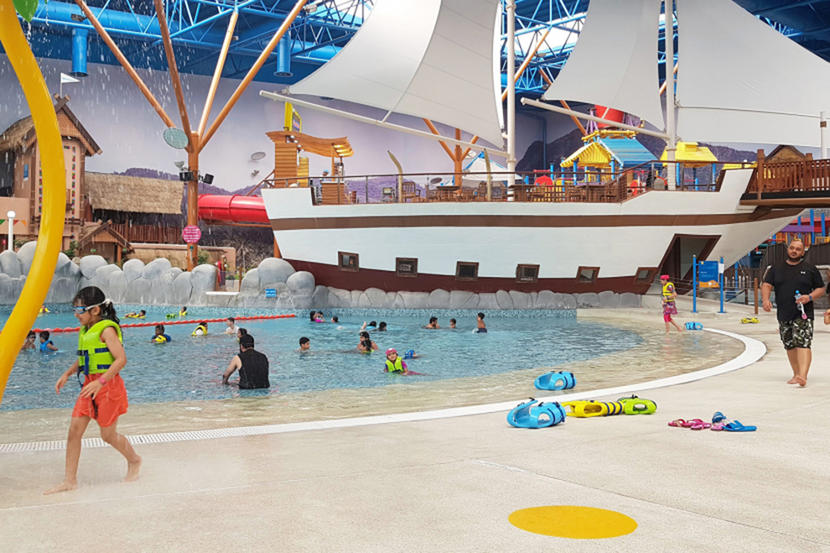 The main reason people go on holiday in the Middle East is for the warm winter weather, and it makes sense to take advantage of this at a water park. There are two main ones in Bahrain, the Lost Paradise of Dilmun, and Wahooo! The Lost Paradise of Dilmun is the bigger of the two, but further out, while Wahooo! Is conveniently located inside Bahrain City Centre.
Lost Paradise of Dilmun Waterpark: BHD18 (guests above 1.2m), BHD8 (guests below 1.2m in height). Mon-Thu 10am-6pm; Fri-Sat 10am-8pm. NOTE: Opening hours will change depending on the season. Wahooo!: BHD4.5 (guests below 1.2m in height), BHD6.5 (guests above 1.2m), free (guests under three). Mon-Tue, Sat noon-8pm; Wed 11am-4pm; Thu-Fri 11am-9pm. City Centre Bahrain (1717 3000). NOTE: Opening hours will change depending on the season.
Check out the animals at the Al Areen Wildlife Park
Kids love animals, and there's no better way to see them in Bahrain than during a visit to Al Areen Wildlife Park. Catch one of the hourly bus tours around the 7 sq km reserve and you and the kids will be left enthralled by all the creatures you spot in their natural habitats.
BHD1 (age two and above), free (kids below two). Daily, 9am-4pm. Zallaq (1784 5480).
Sunbathe on Al Dar Islands
Building sandcastles and splashing about in the sea is always fun, but taking a boat trip to get there will make this day trip extra special. You can hire out a beach hut for BHD10 on weekdays or BHD15 at the weekend on Al Dar Islands, or go on a dolphin watching tour for six people for BHD33.
BHD5 (adults, weekdays), BHD8 (adults, weekends), BHD2 (children, weekdays), BHD4 (children, weekends) for the boat journey to the island. Road 1321, Sitra Fisherman Port (1770 4600).
Take a tour around Bahrain International Circuit
The Formula 1 is fascinating no matter how old you are, and Bahrain is home to the first Grand Prix track in the Middle East in Sakhir. Kids as young as seven can get a taste of the action with Go Karting at the Bahrain International Circuit. The 1,400 m track with 14 corners will entertain even the fussiest of kids. Alternatively, you can go on a tour of the track for BHD6.5 each.
From BHD13. Daily 4pm-midnight. Gulf of Bahrain Avenue, Sakhir. www.bahraingp.com (1745 0000).
Try indoor skydiving
Every child (and adult) in the world dreams of flying, and Gravity Indoor Skydiving will give kids the chance to do just that. The wind tunnel is 12 m tall and can reach speeds of up to 250 kmph, leaving kids screaming with joy. For an extra BHD2.5 you can also wear a superhero costume for the flight, fulfilling two dreams at once.
From BHD17. Sun-Thu noon-9pm; Fri-Sat 11am-9pm. Gravity Bahrain, Zallaq (1310 0000).
Take a selfie with a camel
There are more than 600 camels at the Royal Camel Farm, and there's no better place to see these fascinating creatures up close. Walk the farm and see camels of all ages before feeding some of the younger ones and posing for pictures.
Free. Daily 8am-5pm. Janabiyah (1788 1188).
Head to an amusement park
A day out at Adhari Park is bound to please your kids, with 38 different rides to choose from. You can also hop on a pedal boat and explore, or play and race against each other in mini golf or on bumper cars.
From BHD5. Daily 4pm-midnight (winter); Sun-Wed 4pm-midnight, Thu 10am-midnight, Fri 8am-11am, 1pm-1am (summer). North of Sheikh Isa Bin Salman Highway, Zinj (1740 7300).
Challenge them at laser tag
If you want your kids to be more active but can't get them to stop playing video games, the perfect compromise is a game of laser tag. They get to play against their friends, and you're safe in the knowledge they're getting some exercise. If laser tag won't tempt them, the Ozone entertainment centre also has Foosball, snooker and billiard tables.
From BHD1. Sat-Wed 1pm-10pm; Thu-Fri 1pm-midnight. Sitra Mall (1712 5162).
Go for a picnic
Speaking of taking advantage of that beautiful Bahraini weather, why not head outside for a picnic? There are plenty of great spots in Bahrain, whether you fancy dipping your toes in the sand or exploring nature at a park.
Absorb some culture at a museum
Kids are strange creatures who pick up the weirdest obsessions, from military history to dinosaurs. You know your kids better than we do, and there's a good chance you'll be able to find a museum in Bahrain that they'll actually want to visit. We've rounded up our favourites here.
Be the first to get all the latest Bahrain news, reviews and deals into your inbox by signing up to our free
newsletter
,
click here to sign up
.