When you think of the most stereotypical takeaway possible, you probably think of greasy pepperoni pizzas or creamy chicken curries, rather than delicious veggie burgers or hearty daals.
But just because it's not the norm, doesn't mean you can't get some exceptional vegetarian and vegan dishes delivered straight to your door in Bahrain.
In fact, Bahrain has plenty of great restaurants doing just that, whether you're in the mood for fake meat or just regular vegetarian fare.

Here we've rounded up some of our top picks.
Anais Cafe
This eatery handily combines two different things - seriously healthy food and veganism. You can get meat and dairy-free alternatives like an omelette made of chickpeas and a tofu scramble, or you can opt for traditional vegetarian staples like hummus and arrabiata pasta. Plus, Anais has a great selection of vegan treats including almond muffins and dark cherry chocolate cake.
On Talabat. Daily 10am-10pm. Bu Ghazal, Manama (1766 3068).
Cantine
Although this sandwich spot isn't strictly plant-based, it has enough options to satisfy both meat eaters and vegetarians. You can get millennial-favourite avocado toast, aubergine pesto ciabatta or even a kale caesar salad. It's a great spot for getting your coffee fix, too.
On Talabat and Carriage. Sun-Thu 7am-9.45pm; Fri-Sat 8am-9.45pm. Yateem Centre, Manama (1769 5000).
Getting realistic alternatives for typical meaty junk food like burgers and nuggets isn't an easy task in Bahrain, but Eighty Thirty is here to make your life a whole lot better. The restaurant has Beyond Meat burgers, Moving Mountain hot dogs and plant-based nuggets that are great stand-ins for the real thing.
On Talabat. Daily 11.30am-11.15pm. Al Aali Mall, Seef (1740 4777).
Higher Grounds
As the name would suggest, Higher Grounds is all about coffee - but the food menu is pretty extensive too. Options include a soy shawarma wrap, vegan lasagne and a plant-based not dog, meaning vegetarians won't be missing out on a thing.
On Talabat, Carriage and Hungerstation. Daily 10.30am-9pm. Tubli (1784 0050).
Mana Cafe
This vegan spot, which opened in August 2019, has won over plenty of vegans (and meat-eaters) in Bahrain already. There's plenty of vegan cheese options on the menu - including a cashew grilled cheese, zaatar labneh toast - plus some next-level acai bowls that are just waiting to be Instagrammed.
On Talabat. Sun-Thu 7am-8pm; Fri-Sat 8am-8pm. Diplomatic Area, Manama (1728 0727).
The menu at Nomad Urban Eatery is best described as eclectic, ranging from Arabic to European and East Asian. Not only does it span continents, it spans diet requirements, with gluten free and vegan options available. You can get the Beyond Meat burger here, and there are other veggie dishes like the vegan brisket bao and dark chocolate French toast.
On Talabat. Daily 8am-10pm. Seef (1700 0330).
Plant Cafe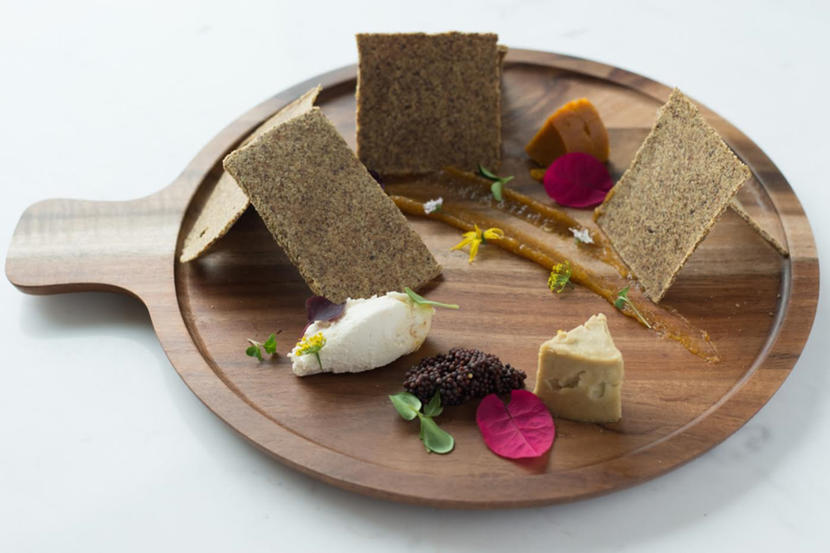 As Bahrain's first vegan restaurant, Plant Cafe has garnered quite a following among those on a plant-based diet in the Kingdom. You can order everything from cheese boards to sushi, safe in the knowledge that everything is meat and dairy free. There are lots of juice options too, if that's your thing.
On Talabat and Carriage. Daily 10am-9.45pm. Hamala Hills, Janabiyah (1700 1677).
Raw Candy
Don't let the name fool you - this spot serves more than just delicious chocolate bars. There are loads of sandwich options, including a falafel waffle and avocado toast, and the candy is, of course, incredible. Vegan hazelnut ferrero or peanut butter cups, anyone?
On Talabat. Sun-Thu 8am-5.15pm; Fri 9.30am-4.30pm; Sat 8.30am-4.30pm. Almoayyed Tower, Seef (no number).
Be the first to get all the latest Bahrain news, reviews and deals into your inbox by signing up to our free
newsletter
,
click here to sign up
.