Here at Time Out, we're firm believers that the best way to explore a country is through your stomach.
In Bahrain, traditional food consists of classic dishes such as machboos, which features meat and rice with plenty of traditional spices, or quzi, which is slow cooked lamb with roasted nuts and raisins served with rice.
As Bahrain is an archipelago, you're also going to find plenty of seafood at any restaurant offering up Bahraini cuisine.
Plenty of eateries will also serve all the standard Arabic fare, such as falafel, Arabic bread, and shawarma.
And once you've got your savoury fill, you have to head to a sweet shop to pick up Halwa, a traditional sweet found across the Middle East.
To help make your quest for Bahrain's local food and traditional dishes easier, we've rounded up some of our favourite places to grab a bite to eat.
Where can I get traditional Bahraini food?
Al Ameer Restaurant
This well-loved spot is away from all the major tourist sites in Manama, meaning you won't have to worry about outrageous prices. In fact, this spot is wonderfully cheap, but the food doesn't show it. The breakfast dishes are delicious, as is the hummus, and you'll be able to try traditional Bahraini food without breaking the bank.
Daily 7am-11pm. UpTown Village, Jannusan (1740 0117).
Emmawash Traditional Restaurant
Although this restaurant only opened in 2012, it's quickly become one of the best places to try Bahraini food. Two friends opened the restaurant after realising there were no real options for cheap traditional food, and since then they've gone from strength to strength, with two branches currently open and a third on the way. The name comes from the famous emmawash dish which is rick with dried shrimp and green mung beans. We'd recommend heading here to try a traditional Bahraini breakfast.
Daily 6am-1pm, 7pm-11pm. Country Mall, Abu Saiba (1730 9030) and Hamala (1730 9031).
Freej Bin Al Rashdan
We love a restaurant with a view, and with its location right next to Dohat Arad Lagoon, Freej Bin Al Rashdan has an excellent one. Head here to try dishes like lamb machboos and Bahraini kebabs before finishing up with balaleet, a traditional dessert (and breakfast!) which features eggs and sweetened vermicilli.
Daily 7am-11.30pm. Dohat Arad Park, Muharraq (7730 0300).
Fusions by Tala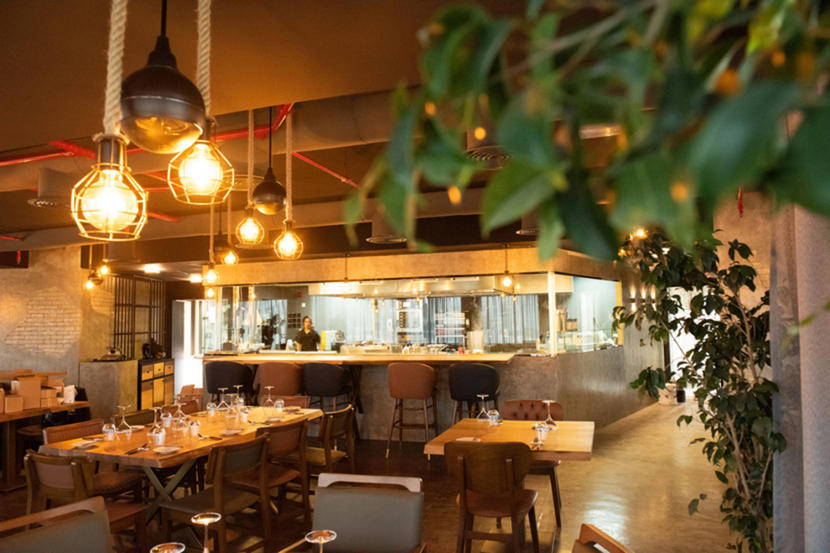 The Gulf Hotel is home to some of Bahrain's top restaurants, and Fusions by Tala is its new Bahraini restaurant. Run by Top Chef Middle East contestant Tala Bashmi, the restaurant offers up modern day twists on traditional dishes. The restaurant itself has a beautiful setting too, and the outdoor terrace is not one to miss.
Sat-Wed 6pm-11pm; Thu-Fri 6pm-midnight. Fusions by Tala, The Gulf Hotel Bahrain, Adliya (1771 3000).
Haji Gahwa
While we're big fans of top notch restaurants, we often find that some of the best traditional food is served from little holes in the wall where you can barely get a seat (if they even have them). Haji Gahwa, inside the famous Manama Souq, has just that, and there's no better (or cheaper) place to try traditional food. There's no menu, and you'll be surrounded by locals who head to this great spot for breakfast, lunch and dinner.
Daily, 5.30am-9pm. Manama Souq (1721 0647).
Saffron by Jena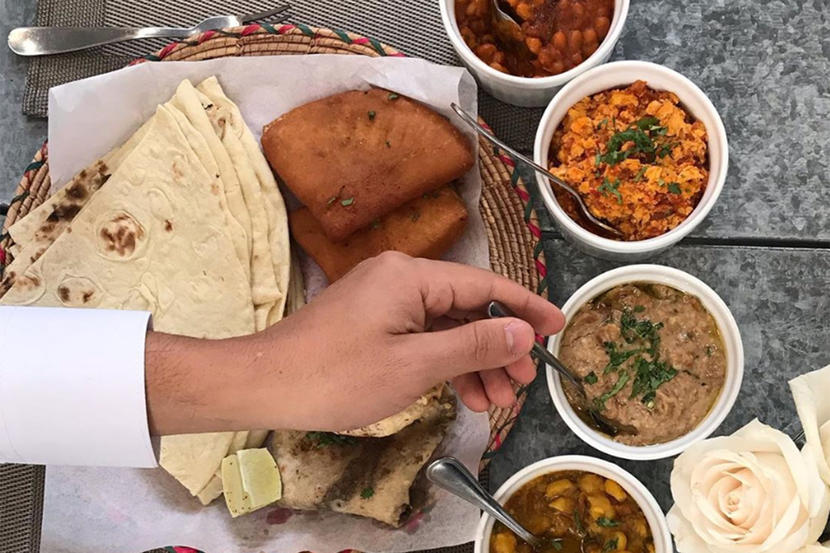 This restaurant, run by Bahraini entrepreneur Narise Qambar, is another favourite among locals in Bahrain. You're guaranteed an authentic experience, and the food is unbelievably good. It's another spot you should head to for breakfast if you can, but lunch and dinner here are just as fantastic.
Daily 8am-10pm. Various locations including Muharraq and Manama Souq.
Tabreez Restaurant
We already told you seafood was a big part of Bahraini local food, and there's no better place to get it than at Tabreez Restaurant. There's loads of different kinds of fish on the menu, including Safi and Chanad. The prices are nothing to grumble at either.
Sat-Thu 11am-midnight; Fri 12.30pm-midnight. South Sehla (1740 6206).
Villa Mamas
Villa Mamas was set up with the intention of spreading Bahraini food across the globe, and with a restaurant in London, Roaya Saleh has achieved just that. Head here for delicious traditional food that uses local, seasonal ingredients.
Daily noon-10pm. Al Markh, Saar (1730 5031).
Be the first to get all the latest Bahrain news, reviews and deals into your inbox by signing up to our free
newsletter
,
click here to sign up
.