If you're visiting Bahrain on holiday, or just moved here, there's a good chance you'll find yourself hanging out in Juffair.

Located near the American navy base, this area has plenty of your favourite chains from back home - most of which you'll find on American Alley, or Al Shabab Avenue.

But there's more to Juffair than Dunkin' Donuts and Ihop, with plenty of great restaurants just waiting for you to give them a spin.

To help you out, we've rounded up some of the top restaurants in Juffair.

Happy eating!

Buchos Street Food
If you're looking for a casual spot to hang out with friends while taking advantage of the great weather, Bucho's Street Food is the perfect place for you. As the name suggests, you can expect plenty of street food, ranging from halloumi fries to grilled peking chicken. The dishes are served out of a food truck, and all of the furniture is made from recycled pallets, so the eating area has back-to-basics feel to it. As there are so many different kinds of food on offer, it's a great restaurant in Juffair for when you and your friends can't agree on a cuisine.
Daily 6pm-midnight. Avenue 22, Block 324, Juffair (3211 4422).
Big Texas Barbecue and Waffle House
Most people only head to Big Texas Barbecue and Waffle House for its incredible Friday brunch, but it would be a mistake to not head here any other day of the week. The breakfast offerings (think lots and lots of waffles) are amazing, and the chicken wings are out of this world. Fair warning, though, this isn't the kind of restaurant in Juffair you want to visit if you're on a diet, or wearing tight trousers.
Daily 5.30am-2am. Best Western Olive Hotel, Juffair (1736 0063).
Cucina Italiana
Ask anyone for a top Italian eatery to visit in Bahrain, and there's a good chance they'll mention Cucina Italiana. This restaurant in Juffair has been serving up traditional food for nearly 10 years, and we even gave it our Best Italian Restaurant gong shortly after it opened. The pasta menu is extensive and we adore the pizza here, which is cooked in a wood-fired oven for extra deliciousness.
Sat-Wed noon-midnight; Thu-Fri noon-1am. Al Fateh Road, Juffair (1700 1317).
Gold Label Burgers
It's little wonder that there are plenty of spots to grab a burger in Juffair, but Gold Label Burgers is our go-to burger joint. You've got all kinds of options, such as the umami burger and the all American, and the beef itself is all grass-fed and free range, so you know it's top notch. The menu is cinema themed and there are some real blockbuster side dishes that you won't want to miss, including the Jackie Chan fries and the mozzarella sticks. This spot is also in the food park alongside Bucho's Street Food, so you can hit two great places in one.
Daily noon-midnight. Avenue 22, Block 324, Juffair (3211 4422).
Kabuki Japanese Cuisine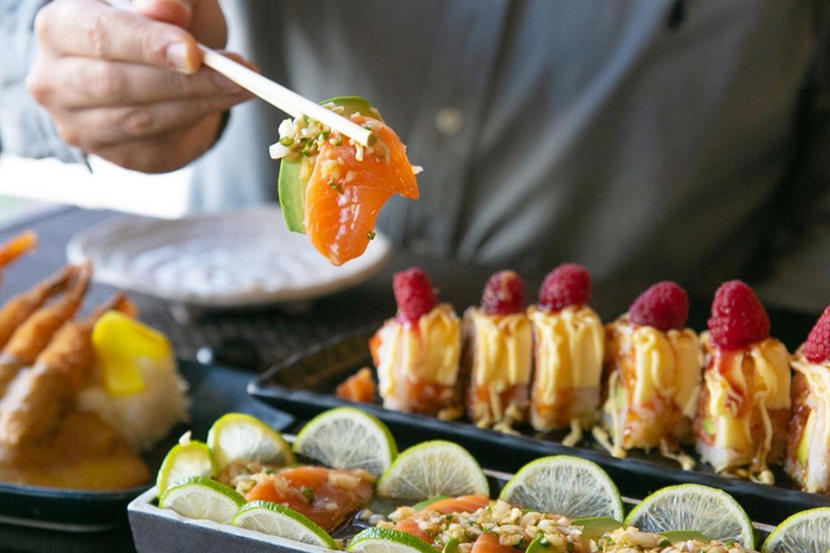 Finding authentic Japanese food in Bahrain can be a struggle, but luckily for anyone dining in Juffair, Kabuki Japanese Cuisine has some of the best. There's plenty of sushi and tempura options, and you can also pick up some street food like okonomiyaki. If you've got a sweet tooth, you can also get mochi here too.
Daily 11.30am-3am. Road No 4015, Juffair (1761 6191).
Ric's Kountry Kitchen
The eponymous Ric was born in Oklahoma, bringing his hometown cooking to Juffair in the early noughties. The American restaurant has been popular ever since, with all your favourite dishes on the menu. Make sure you head here on Wednesdays for wings night.
Daily 5.30am-2am. Al Shabab Road, Juffair (1772 5550).
Via Brasil
This restaurant inside the Wyndham Garden in Juffair is all about meat, meat and more meat. Head to this restaurant and you'll enjoy unlimited meat cuts delivered to your table by passadores who use a Brazilian-style rotisserie to cook everything from beef to chicken. It's as delicious as it sounds.
Tue-Sun 6.30pm-2am. Wyndam Garden, Road 4003, Juffair (6631 6666).
Be the first to get all the latest Bahrain news, reviews and deals into your inbox by signing up to our free
newsletter
,
click here to sign up
.