Although Bahrain is an archipelago, beaches are few and far between across the Kingdom.

But that doesn't meant there aren't plenty of things to do like paddleboarding and jetskiing when you make your way down to the sandy shores.

On public beaches, you'll be expected to dress respectfully.

Read on for our guide to the best public and private beaches in Bahrain.
PUBLIC
Abu Subh Beach
Abu Subh beach, or Diraz beach, is in north west Bahrain near Budaiya and Northern City. This spot is great for families thanks to the kids' play area and food trucks lining the sand. Abu Subh is popular with locals, so don't forget to cover up.
Abu Subh beach, Diraz.
Al Jazayer beach
As the biggest public beach in Bahrain, Al Jazayer draws in a huge crowd over the weekends, including plenty of folks who are barbecuing. Located near the Bahrain International Circuit and the Al Areen Wildlife Park and Reserve, this spot is quite the drive from Manama city centre, but definitely worth it for the shallow clear waters. This area is currently under development but should have new food outlets and retail shops in the near future.
Al Jazayer beach, Zallaq.

Arad Fort beach
This tiny beach, located next to the picturesque Arad Fort, is more suited to picnics or casual strolls than swimming, but don't dismiss it. The convenient location next to Seef Mall means you won't have to travel miles and miles to enjoy the feeling of sand between your toes.
Arad Fort beach, Arad.
Budaiya beach
Budaiya beach is another spot favoured by residents thanks to its clear waters and children's play area. The area was recently redeveloped by the government and has plenty of food stalls dotted about. Head here to watch the sunset.
Budaiya beach, Budaiya.
Karbabad beach
This beach is also very conveniently located in Seef, making it popular with both expats and locals. At sunset, you'll spots lots of people going for an evening stroll and enjoying the views.
Karbabad beach, Seef.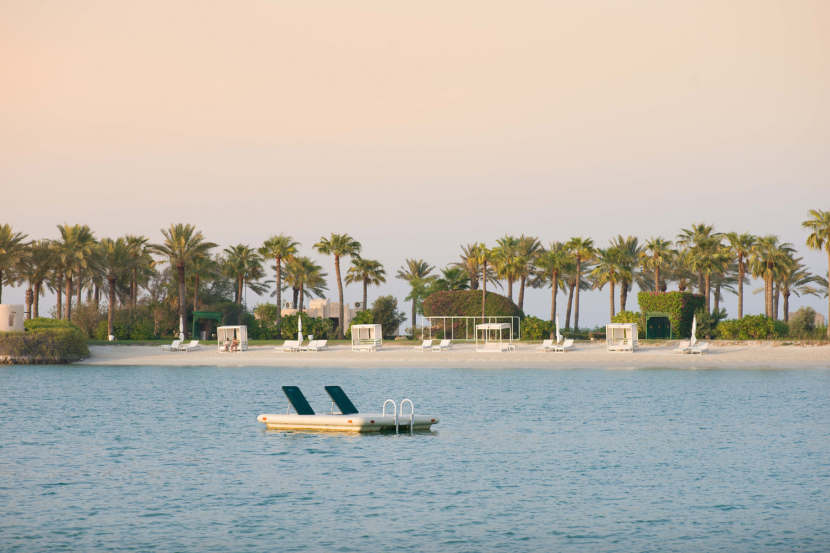 PRIVATE
Coral Bay
Coral Bay is famed for its parties, with different DJs from across the globe playing every weekend. Here you'll get access to the private beach, a lagoon pool, and a swim-up bar. You can also try jet skiing, kayaking and wakeboarding here.
BHD8 (adults, Sun-Thu), BHD10 (adults, Fri-Sat), BHD5 (children, Sun-Thu), BHD8 (children, Fri-Sat). Daily 9am-8pm. Coral Bay, Road 2407, Manama (3977 7701).
Four Seasons Bahrain Bay
The Four Seasons in Bahrain Bay's beach, which opened in April 2018, is unrivalled for its amazing views of the Manama skyline. Unfortunately, you'll only be able to head here for special events, if you're a hotel guest, or a member of the spa.
Yearly membership costs BHD1,700 per person, or BHD2,200 for families. BHD1,700 (single), BHD1,900 (couples), BHD2,200 (families). Four Seasons Bahrain Bay, Manama (1711 5000).
Marassi Al Bahrain
Marassi Al Bahrain is extremely popular thanks to its low entry prices. Anyone who's feeling adventurous can try out parasailing, wakeboarding or jet boards, while those looking for something slightly calmer can try kayaking or have a go on a doughnut boat. There's also bungee trampolines and a volleyball court, as well as plenty of space for picnics. An annual pass for families costs BHD100.
BHD2 (adults), BHD1 (kids 3-12). Daily 9am-midnight. Marassi Al Bahrain, Muharraq (7789 0010).
Sofitel Bahrain Zallaq Thalassa Sea & Spa
The Sofitel Bahrain Zallaq Thalassa Sea & Spa resort offers up a large stretch of private beach, complete with volleyball courts, and a huge pool. This spot is also near the Bahrain International Circuit, so a bit out of the way if you're staying in Manama.
BHD20 (adults, Sun-Thu), BHD30 (adults, Fri-Sat), BHD10 (children, Sun-Thu), BHD15 (children, Fri-Sat). Daily 9am-8pm. Sofitel Bahrain Zallaq Thalassa Sea & Spa, Zallaq (1763 6363).
The Ritz-Carlton, Bahrain
If you're looking for a luxurious beach experience, Ritz-Carlton Bahrain is where you need to go. You'll find plenty of sun loungers, a gigantic pool, a private beach and an island you can swim over to. The Royal Beach Club pass also includes access to the gym – but be warned, this spot isn't cheap.
BHD25 (adults, Sun-Thu), BHD50 (adults, Fri-Sat), BHD12.5 (children, Sun-Thu), BHD25 (children, Fri-Sat). Daily 5.30am-10.30pm. Ritz-Carlton Bahrain, Seef (1758 0000).
Be the first to get all the latest Bahrain news, reviews and deals into your inbox by signing up to our free
newsletter
,
click here to sign up
.